Updated: 5th January 2021
COVID-19
Podiatrists are Essential Medical Keyworkers and are allowed to provide treatment to patients during Tier 4 and lockdowns. Patients are allowed to attend for Medical treatments.
Following the latest January 4th 2021 Government lockdown advisory, you are still allowing to attend for medical treatments including Podiatry treatments.  Trinity Podiatry Clinic will remain open during this latest lockdown.
Since Lockdown in Scotland was lifted, we have entered a new phase of the management of the pandemic and we are currently allowed to see all patients.  You are allowed to attend for medical appointments such as Podiatry treatments.
When you attend for an appointment, you MUST wear a face covering & sanitise your hands on arrival. If you forget, we can sell you a mask for £2 which is the cost to us of this precious commodity.
Our latest treatment guidance is in line with all other HCPC registered podiatrists and healthcare professions across the UK. We are required to comply with national guidance and with the College of Podiatry advice.
All our Podiatrists are available and our opening hours are now 9am until 8.30pm Monday to Friday and Saturday mornings. Please contact us to arrange an appointment either online from our website (we need to have your email address under your details to book online) or by calling our reception staff. Please do not come to the clinic unless you have an appointment.
Our clinic will be a little different for a while for everyone's safety. Our costs have increased greatly due to Covid-19 and our price is now from £45. This is due to the extra time required to carry out appropriate decontamination in between each patient and the global shortage of medical supplies causing increased costs.
If you attend for an appointment please note the following: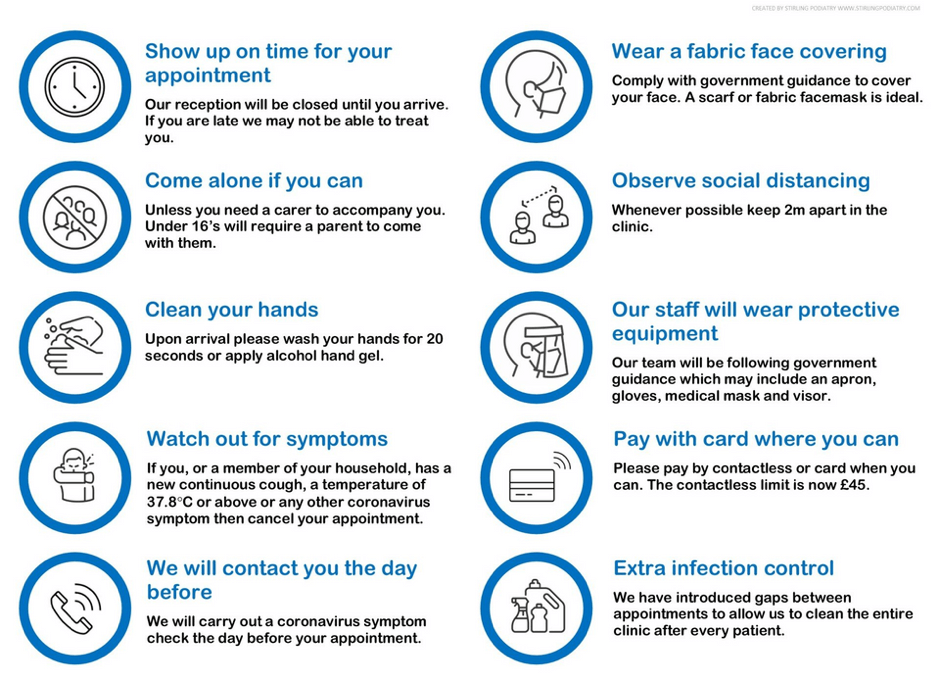 If you are shielding, then you can still leave the house for medical care. We are also still able to provide a home visiting service but only for housebound patients.
Please do not attend for treatment if you have any of the symptoms of Covid-19 and please give us 24 hours notice to cancel. Just let us know when you are recovered and we will arrange another appointment.
Our website and social media pages always have the most up to date information about what is happening in the clinic and restrictions may ease or tighten over the next few months. We will be led by guidance from our professional body, the College of Podiatry, and our regulatory body, the Health and Care Professions Council.
Thank you for your understanding during these difficult times and please take care,
Jacqui, Sally, Gavin & Gillian