When the UK went into Lockdown on March 23rd 2020 we followed government guidance and moved to treating patients in need of Urgent Care only. Now as we enter a new phase of the pandemic, our professional body has issued new guidance.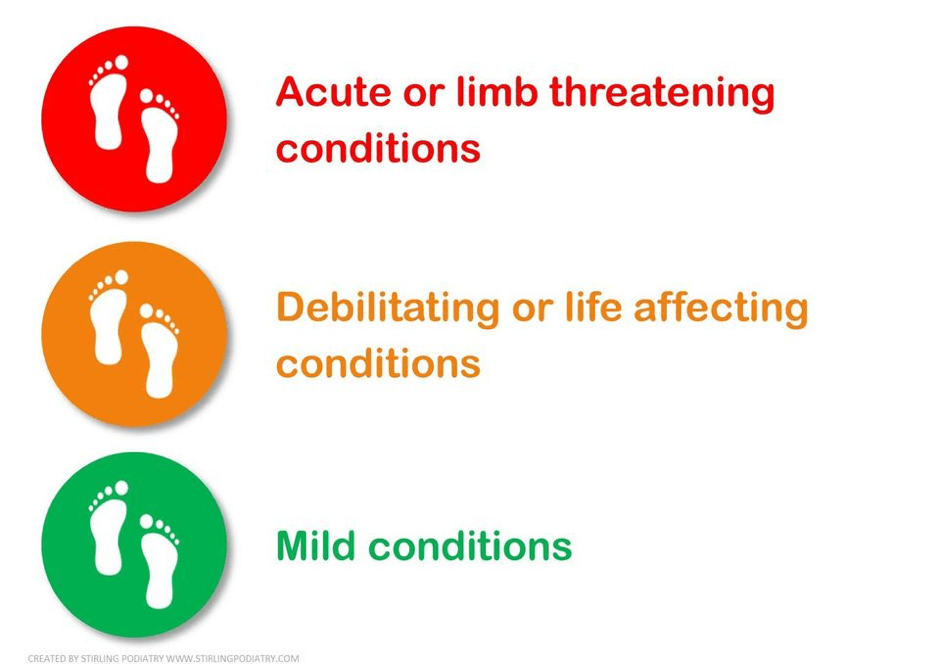 Since Lockdown commenced, we have had to cancel hundreds of appointments. We have triaged all of the patients that we had to cancel in preparation for reopening been based on medical and podiatric need. Now that we have entered a new phase of the management of the pandemic, we are allowed to see an expanded group of patients.
Until now we have only been able to treat patients who fall into the red category. As of the week beginning 1st June 2020 we will start to see people who are also in the amber & green categories. We are now able to offer treatments to all categories of patient, especially all painful or debilitating foot, mechanical foot, leg back or knee conditions which fall into the Amber category and basically anyone in any discomfort even in the Green category.
When you added for an appointment, you MUST wear a face covering & sanitise your hands. If you forget, we can sell you a mask for £2 which is the cost to us of this precious commodity.
Our latest treatment guidance is in line with all other HCPC registered podiatrists and healthcare professions across the UK. We are required to comply with national guidance and with the College of Podiatry advice.
All our Podiatrists are available now and our opening hours are now the same 9am until 8pm Monday to Friday and Saturday mornings. Please contact us to arrange an appointment either online from our website or our reception staff have now returned to work. Do not come to the clinic unless you have an appointment. We appreciate that it may have been some time since you last had your feet treated and we thank you for your patience while we try to accommodate as many patients as we can. 
Our clinic will be a little different for a while for everyone's safety. Our costs have increased greatly due to Covid-19 and our price is now from £45. This is due to the extra time required to carry out appropriate decontamination in between each patient and the global shortage of medical supplies causing increased costs.
If you attend for an appointment please note the following: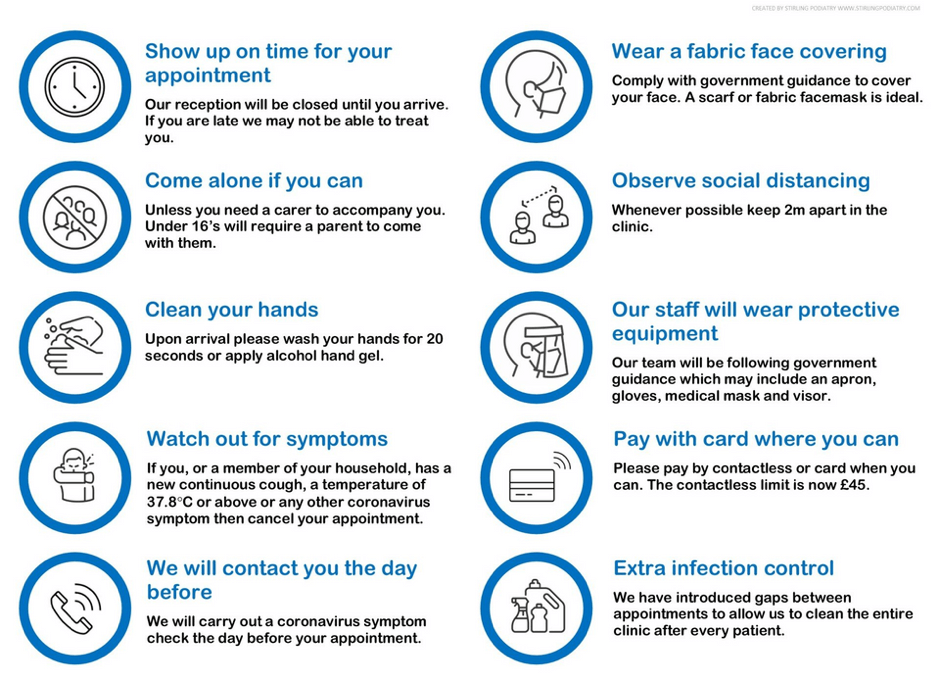 If you are shielding, then you can still leave the house for medical care. We are also still able to provide a home visiting service but only for housebound patients. We know that many members of your household may all be registered patients but only those who fall into the appropriate treatment categories can be treated just now.
If you fall into one of the categories we can treat but do not wish to attend an appointment you have already made then please just give us 48 hours notice to cancel, that is not a problem. Just let us know when you are ready and we will arrange an appointment.
Our website and social media pages always have the most up to date information about what is happening in the clinic and restrictions may ease or tighten over the next few months. We will be led by guidance from our professional body, the College of Podiatry, and our regulatory body, the Health and Care Professions Council.
We hope that we will be able to see you all as soon as possible and we are on hand to provide telephone advice and video consultations if a clinic appointment isn't possible at the moment.
Thank you for your understanding and please take care,
Jacqui, Sally, Gavin & Gillian